Endian Firewall Community 3.2.4 verfügbar!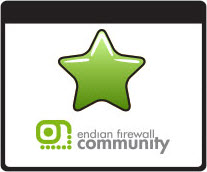 Auszug aus dem Newsletter:
The Endian Team is proud to announce an updated image for the 3.2 release.
Check out the new release today by downloading the latest iso image.

If you already have an installed community with at least a 3.2.0beta1 version you could just register and run the updates.
Get FREE updates for your Community! The registration procedure is much easier now: follow the initial wizard and just with an e-mail address you can keep the system updated.

Don't forget to give us a feedback or report the bugs to JIRA.
Here's a short list of changes compared to the latest 3.2.2 released iso:
•Updated squid to 3.5.25
•Updated dnsmasq to 2.76
•Updated openvpn to 2.4.3
•Security improvements to certificates management and openvpn
•Extended support for hardware raid
•Extended support for network interfaces
•Security fixes
•Added hourly graphs (thanks to dwstudeman from community)
No need to say, this new image includes a lot of improvements and bug fixes as well.

For more details, please see the changelog